Shop fitting systems
Optimum presentation of the product range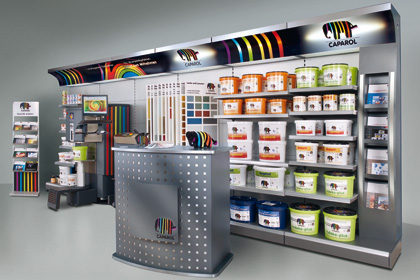 With a professional set-up and arrangement of your sales rooms you ensure that the existing sales area is optimally exploited. This means that you can also better control the sales-promoting positioning of products and with that the stimuli for making additional purchases.
Combinations according to requirements
The Caparol Shop-in-Shop shop-fitting system offers flexible, attractive solutions for every room situation and enables an optimum presentation of goods. The system was specially developed for specialist Caparol dealers and meets the most various types of requirements: It focuses on the tinting service ColorExpress – in addition, it contains many supplemental elements to ideally present paints, enamels and stains as well as wallpaper and floor covering.
The illuminated modules with the striking Caparol look in the panelling area can also be retrofitted into existing shop-fitting systems of Caparol. In addition, a large selection of consulting elements are available.