Awards
Award-worthy: Colour design by Caparol
The adornment value of colour is undisputed. But colour can do much more. Designers and architects work every day with colour in decorative design. The solutions arising from this work are well rewarded. With the awards it has received Caparol demonstrates that the design expertise of the ColorDesignStudio is also acknowledged amongst specialists.
Living Spaces nominated for the German Design Award 2015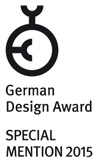 The third nomination for the Living Spaces concept occurred recently for the German Design Award 2015. After already obtaining two awards, this nomination was received with much satisfaction. "It shows that we are on the right way," says Margit Vollmert, Manager of the Caparol ColorDesignStudio.

More information about "Living Spaces" can be found here.
M&K Management and Hospital Award 2014 for Living Spaces
In January 2014 the "Living Spaces" concept was one of the winners of the Management & Hospital Award 2014 in the "Construction & Facilities" category. Knowledge of the appropriate design of interiors, taking into account the cognitive and visual restrictions of elderly people, is convincing. Several buildings have already been designed based on "Living Spaces".
Find out more about "Living Spaces"
Health Media Award 2013 for "Living Spaces"
For the "Living Spaces" concept, Forbo and Caparol received the Health Media Award on 28th June 2013 which was being awarded for the sixth time. The award is given for the best performance in the field of health communication. The adjudicating panel awarded the prize in the special category "Dementia and Communication" for the "Best design aid nationwide". "Living Spaces" received the award because of its holistic design concepts with special paints and floor coverings for the living spaces of elderly people. In this way routine capabilities can be retained longer, independence and wellbeing promoted and the care routine alleviated.
You would like to find out more about "Living Spaces"? You will find further information here.
German Design Award for SPECTRUM_arena
SPECTRUM_arena begins where the imagination finishes: The virtual decorative design of interiors and facades in 3D also won over the adjudicating panel for the German Design Award 2014. It honoured with a "Special Mention" the innovation of the Caparol ColorDesignStudio which was presented for the first time in March in Cologne at the Paint - finishing & facade exhibition. This distinguishes projects, the design of which particularly highlights successful partial aspects or solutions.

There is more about the Specturm_arena hier.
German Design Award for the guest house of the University of Applied Sciences Darmstadt
The interior architectural design of the International Guest House of Darmstadt University of Applied Sciences (h_da) received the German Design Award 2014 from the German Design Council in the category "Architecture & Interior Design". With the distinction "Special Mention in the Category Architecture and Interior Design" appreciation is shown to projects where the design exhibits especially successful partial aspects or solutions – valuable recognition for the outstanding commitment shown by companies and designers. The design concept was developed and implemented by the interior designers, Simone Ferrari and Claudia Witte, from Seeheim-Jugenheim.

More Information here.